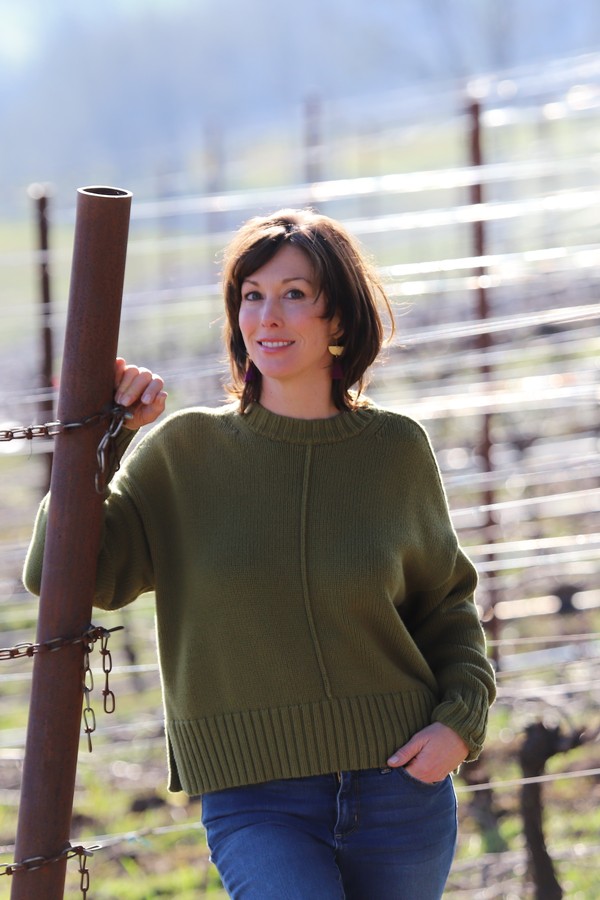 Rachel Rose
Winemaker & Vineyard Manager
Rachel Rose graduated with her B.S in Molecular, Cellular, and Developmental Biology from the University of California, Santa Cruz. Fresh out of college and working in a Biotech research lab, she never imagined herself elbow deep in roiling ferments within just a few years; however, wine finds a way. For her, it came through food. Cooking was her hobby through college and her first couple years of professional life, and as she gained a job with stable income, she was able to start pairing her meals with wine. Each wine she tried opened her eyes to new regions and new varietals, and she picked up a job in a tasting room on weekends to grow this newfound interest. Meeting with a winemaker, she realized that not only were geography and climate huge factors in wine, but biology and chemistry as well. Wine quickly became a fiery passion, but unlike most passions, her education was shockingly relevant to this particular one. She realized she might have that chance that every 20-something dreams of, the chance to explore the world with an active, hands-on profession that could lead to a professional future. Already feeling exceedingly restless in the lab setting, she debated what and where to study before taking off for Australia to delve into viticulture for a year.
One year became three years, by the end of which she had her M.S. in Oenology and a postgraduate diploma in viticulture. At the University of Adelaide in South Australia, she had a unique educational opportunity. South Australia has an exceedingly diverse set of converging climates. Hundreds of varietals can grow successfully in a relatively constrained space. The University provided a working winery so Rachel could play with this stunning array of grapes in a hands-on, experiential fashion, with a focus microbiology and soil chemistry. In the Adelaide Hills, Rachel discovered the miracle of cool-climate Pinot Noir and Chardonnay, igniting a love affair that grows stronger to this day. She knew either Burgundy or "the New Burgundy," AKA Oregon, were in her future, and as a non-French speaking American woman, the latter seemed to make the most sense. To help that decision to come back to the West Coast were family and a particularly lovely artist & musician named Liam Stary, whom Rachel met just a few months before she left for Australia.
---
When a charismatic and determined man named Jon Lauer reached out to her about an opportunity to live on his recently acquired vineyard and help develop his property, she couldn't pass the opportunity. Rachel and Liam moved to a downtrodden triple-wide trailer on the property, which they would laboriously coax into a home for the next five years. She quickly proved herself to the Lauers, who entrusted her with the full direction of Bryn Mawr's viticulture and winemaking programs. Under Rachel's leadership, acres were cleared and planted with a diverse set of clones and varietals, production took off, and the world took notice. Her wines, produced in a pop-up tent that would make other winemakers shiver, were quickly being flooded by accolades, and the Lauers knew they had to give her the proper conditions to achieve her potential. After many years, 2018 marked the first vintage of Bryn Mawr wines made under walls and a roof, and her star has only risen with every vintage since.
Rachel is an adaptive and experimental winemaker who bridges the gap between natural and conventional winemaking. She is remarkably prolific. making an array of unique wines that require adept skill and technical knowledge. Her primary winemaking philosophy focuses on minimal use of SO2, judicious use of new French oak, and continual experimentation. Through contemplative intervention in the vineyard and the cellar she aims to express and elevate the unique characteristics of each vintage of wine she makes. She knows how bridge the artistic creativity that's the lifeblood of the wine industry with a modern understanding of biochemistry necessary for understanding the building blocks of her wines; this allows her to envision what she wants her wines to be while allowing her the tools to achieve those goals. Her appreciation for many different winemaking philosophies combined with her refusal to be dogmatic makes her one of the most exciting winemakers on the West Coast, reminding us that wine can be fun, serious, educated, and pretty wild!